Flowers for a Russian Girl: How to and What to Choose
A lot of western men are dreaming about dating Russian girls. Russian women are known for their beauty, obedience, and acceptance of the traditional female role of the housewife. Things that western women left behind long ago when feminism movement began. The patriarchal upbringing of Russian girls, which teaches them how to respect men, makes them highly attractive for men from western countries.
Dating Russian women is quite easy thanks to the constantly increasing number of dating services. While everything is simple and easy when chatting online, things can get a little more difficult when your communication slowly transfers to the real world. Western men often prove to be helpless with how to impress their Russian girl on the first date. The lack of gift ideas for girls continues to haunt them even with Slavic women.
The easiest way to impress your Russian lady is to bring her flowers on the first date. But first date flowers cause western men a lot of troubles. That's why you should learn a few things about that.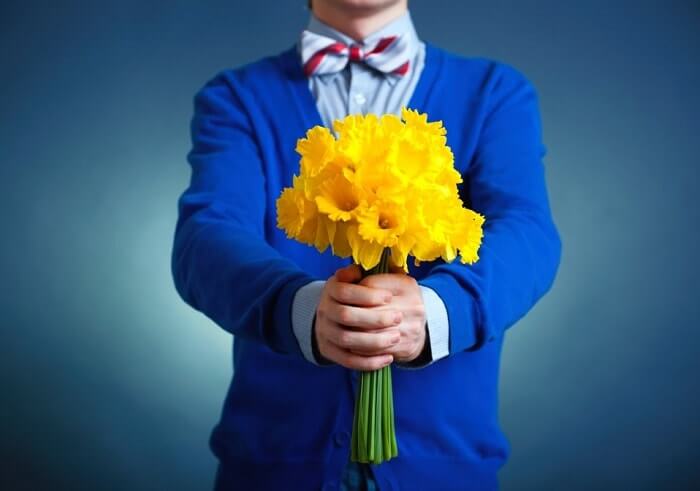 The Culture of Giving Flowers in Russia
Flowers are not mere gifts for girls in Russia. Every special occasion in Russia requires flowers. Children present flowers to their teachers at the beginning of the school year. Flowers often serve as gifts on birthdays. Every woman is inclined to get her flower or a bouquet on the 8th of March, the International Women's Day. And funerals require specific flowers. Although it may seem strange, learning the funeral tradition of giving flowers will help you avoid a lot of problems. The funeral is the only occasion when you can present red dianthus.
And the funeral is the only occasion when you can present an even number of flowers, all other dates require the odd number flowers. Even if it's a birthday gift and someone turns, let's say 30, you can't give the person 30 roses. There must be one rose more or one rose less. Russians are very superstitious, and the even number of flowers on a birthday or on a date can be viewed by them as a harbinger of bad luck.
What Kind of Flowers Russian Women Like
You may assume that there is some specific type of flowers that Russian women like, but there isn't such a thing. When you date a Russian girl online, you must be attentive to details she gives you on what she likes. She might as well give you some information on what flowers she likes. Of course, roses will always do, but it is better to show that you were attentive while chatting with her.
What to do in case your online conversation never touched upon this topic? Simply choose the most expansive flowers. Anyway, it is better to know whether she is allergic to any flowers, otherwise, your gift would be spoiled.
Another important topic to learn when you arrange your first date with a Russian lady is how to give flowers on a date. If you're giving her flowers that she likes, your attention mustn't be concentrated on the flowers but on the act of presenting her with them. Look at her and not at the flowers. And by no means show that you're waiting for her reaction. Otherwise, she may consider that you're trying to buy her with them. Russian girls think that your intentions and your feelings that the gift represents mean much more than the present itself.
When you date a Russian woman it is better to learn whether she likes plain bouquets or not. Sometimes, a small number of roses that you want to give her with the risk of hurting your hands may work way better than all those expensive bouquets.
There are no comments. Be the first