Great Wedding Ideas for 2020 Season
A wedding is one of the most anticipated events in the life of loving couples. People have arranged weddings since ancient times, and this tradition is still relevant. In fact, a wedding is an amazing day in the life of a young family: the eyes of the newlyweds shine with happiness, and everything around seems impressive and fabulous. That is why not to ruin the enjoyment of the celebration, couples should think through everything to the finest details and bend every effort to make this day extraordinary!
Why not bring something bright and original to the slightly threadbare wedding scenarios, something that will distinguish the ceremony from hundreds of others and be remembered by the newlyweds and their guests for many years? We would like to bring to your attention some original wedding ideas for any taste and budget.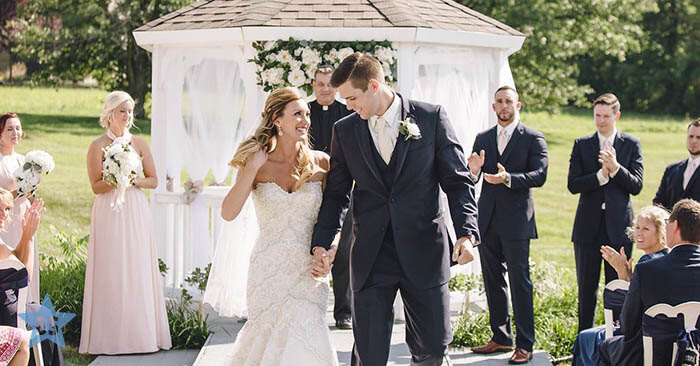 Small Wedding Ideas
The organization of a small wedding is much simpler and cheaper compared to a magnificent crowded celebration. Even an offsite ceremony with a small banquet after it costs a relatively small amount of money. And so, look at the good small wedding ideas.
1. Outdoor wedding
A wedding in the fresh air outside the city can be arranged in the form of a modest picnic or a full-fledged celebration. Such a wedding will be remembered by the riot of colors of nature and a sense of freedom. In addition, photographs and an open-air wedding video will definitely be unusual!
2. Wedding in a luxury cafe or restaurant
For a small group of people, it is quite possible to arrange a wedding ceremony in an expensive exotic restaurant. This is a great way to perform a wedding without spending a lot of money. So, there is no need to stint yourself in choosing expensive and unusual dishes. Also, this is one of the good winter wedding themes, when you cannot arrange an outdoor ceremony because of the bad weather. In addition, you will definitely save money for a honeymoon trip with a loved one. Women surveyed on a single ladies website admitted celebration in a luxury restaurant to be one of the best wedding ideas.
3. Modest wedding at home
A cozy home-like atmosphere at a wedding is always better than officialdom, which is characteristic of all the celebrations in the banquet halls. Thanks to the thoughtful preparation of the premises and writing the original script for the celebration, you can arrange the wedding at home, and it will outdo any official event at fun and sincerity.
4. Wedding in the greenhouse
A wedding in the greenhouse is an original idea for a small ceremony. But first of all, you need to arrange with a greenhouse or botanical garden on performing a wedding there. It will be a simple small wedding in a tropical setting surrounded by flowers, greenery, and exotic plants. Also, in this way, you can celebrate such a memorable event with the closest people and save money on a luxurious honeymoon.
Geek Wedding Themes
Every bride and groom try to come up with interesting and unique wedding themes. After all, everyone wants the celebration to be original and special. Let's consider some geek types of wedding themes for you and your loved one.
1. Extreme wedding
The extreme format of the wedding is always chosen by lovers of adrenaline and strong sensations. Couples exchange wedding vows at the helicopter, and in a balloon, underwater, underground, in the jungle, etc. Since not all guests share the love for an adrenaline rush, often, only the closest people are present at such weddings. Unforgettable impressions and exclusive photographs are those moments that will make the celebration unique.
2. Wedding travel
You cannot imagine your life without traveling and getting new experiences? Then give up the traditional wedding banquet and go on a dream trip! The mountains of Peru, the black beaches of Iceland, the Scottish highlands, or the American prairies will be an excellent venue for your wedding ceremony and the most vivid memory that you share with a loved one! Also, do not forget to consider the destinations for honeymoon which you will visit after the wedding.
3. Gangster wedding
The scenario of such a celebration is popular these days. All the delights of gangster life will open to you: saxophone, whiskey with ice, jazz, tap dance, a fight with the police, contraband, gambling, etc. Do not be surprised if mafia puts the snatch on the bride, and there will be a wedding cake on your face. Live it up!
4. Rooftop wedding
This is one of the most romantic wedding themes! Roofs of tall buildings have always attracted daydreamers and adventure lovers, and a rooftop wedding will be a breathtaking and unusual solution. Many buildings rent their roofs for running events and choosing this option for a wedding, you can enjoy the amazing view of your beloved city in the company of the dearest people and a loved one. It does not matter whether it is the roof of an old mansion or the viewing point of a skyscraper – be sure that you will remember such an unusual wedding for a long time!
Wedding Themes for Summer and Spring
Spring and summer are a wonderful time for a wedding party. These seasons provide an excellent opportunity to perform a celebration in nature, enjoying the gentle sun, beautiful landscapes, and a wonderful starry sky. Therefore, we present to your attention the best summer and spring wedding themes.
1. Ceremony at night
Why not celebrate such a magical event under cover of the night?! Summer provides a great opportunity to perform a ceremony in the evening. Decorators and modern lighting capabilities will create a fabulous atmosphere for your wedding. You will make vows in the complete silence and under the shine of the moon – this is incredibly romantic!
2. Beach wedding
Summer is a sunny and hot season, why not arrange a beach wedding? This is a wonderful opportunity to enjoy the light onshore breeze, admire glorious sunset, and take original and live pictures in the water and on the beach! Moreover, there are many interesting beach games and types of water entertainment to have fun with your guests!
3. Hiking wedding
The most interesting ideas for arranging a wedding in the summer are connected with the organization of a real hiking trip. You need to choose a picturesque meadow in the forest, pitch a large tent, and decorate everything around beautifully. At the same time, you should prepare snacks and fry barbecue in advance. All guests can stay there overnight, therefore, do not forget to prepare tents and sleeping bags. The combination of camp life and solemn wedding suits is a great idea for a summer wedding photoshoot.
4. Water park wedding
Another way to celebrate a wedding in an original way is to arrange it in a water park. This is a unique opportunity to get a flood of positive emotions and vivid impressions. First of all, you should visit the water park in advance and discuss all the organizational issues with the administration. In addition, do not forget to use the services of a professional photographer – your wedding pictures should be bright and original.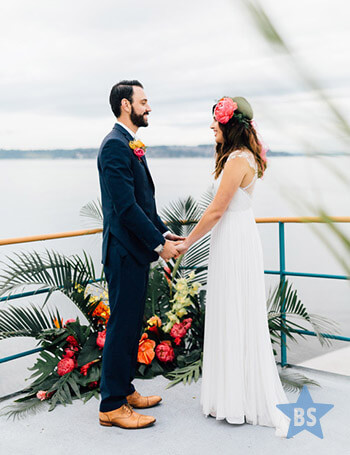 Also, a wedding on the water is a real occasion to organize unusual contests, have fun, and thrash about in the water without thinking about how not to spoil the wedding gears.
5. Wedding on the boat
A great option for a wedding in summer or spring is a celebration on the boat or yacht. Thus, you will be able to organize a wedding on the water, enjoy the magnificent views, and be together with family and friends all the time. Also, you can combine the celebration with a river cruise, enjoying the beautiful architecture of your city and breathtaking river views.
6. Country wedding
Another great idea is to organize a ceremony in a popular country wedding style. It is suitable for those loving couples who have a small country house outside the city. Such a celebration in a rustic style will help guests and newlyweds to have plenty of fun and relaxation. Pictures from a gorgeous wedding photoshoot in nature will be remembered forever.
Classic and Simple Wedding Styles
Do you want to arrange your wedding in a simple style? Then, there are some good classic wedding styles for you!
1. Wedding in a specific color
Weddings in certain colors are a great way to emphasize the exclusivity of the event. Let wedding floristics and other decors (balls, garlands, tablecloths, etc.) be treated in the favorite shades of the newlyweds. It will certainly decorate your wedding and make it unique. Wedding 2020 requires choosing not just one color but an exquisite palette of shades that harmonize with each other. In addition, this is one of the good wedding themes for fall, as you can admire a whole rave of colors!
2. Based on your favorite book or movie
Each of us has favorite writers, actors, and works of literature and cinema. The starting point in creating the concept of your wedding can be your favorite work or film, which has had a special impact on you. It is about philosophy or motive, as well as a style or mood of your favorite book or movie, which can become an inspiration for creating a concept for your wedding.
3. Themed wedding
Nowadays, it is already difficult to surprise someone with an ordinary magnificent celebration, but weddings in different styles are still in fashion. Why not go back to the distant Middle Ages: a bride will easily try on the image of a princess, and a groom will appear in the image of a brave knight. Or you can give preference to a bizarre pirate party, arrange an oriental tale, a gangster feast, or a retro-style celebration. Among more creative ideas, there is an ice wedding, where the bride will be transformed into the Snow Queen, who lives in the ice palace, and the bridegroom – in Kay, ready to melt her heart. Of course, all the jewelry and outfits should be thematic too.
4. Hobby wedding
If a loving couple has a common hobby, it will be great if they reflect it in their wedding celebration. For example, at a biker wedding, it is appropriate to make a cortege of motorcycles and arrange a celebration in a stylized bar. Divers can perform an exotic aquatic photo session, during which there will be a long-awaited exchange of rings. A balloon wedding will be no less beautiful and bewitching – as they say, "marriages are made in heaven," so such a celebration fully corresponds to this statement.
Expensive and Elegant Wedding Themes
Some people adhere to the opinion that such a significant event as a wedding should be luxurious because this is a celebration of love that takes place only once in a lifetime. If you want to make your wedding truly expensive and chic, consider these ideas.
1. Wedding on a yacht
You cannot live without travels and adrenaline rush? Then a wedding on a yacht is a great option for you! You can rent a luxury yacht and arrange a wedding celebration wherever you want. Moreover, another advantage of such a wedding is that you can rent a yacht for any period of time. Swim in the sea, enjoy the breathtaking sunsets and sunrises, and have fun with your loved one and guests!
2. Wedding in the castle or manor
Do you want to feel like a prince and a princess from a fairy tale? Then a wedding in a castle or manor will be a good option for you. Historical interiors, luxurious rooms, an evening dress code, and exquisite treats will turn your wedding into a celebration at the highest level. Touch the history and make your dream of a real royal wedding come true!
3. Luxurious Gatsby Style Wedding
To date, it is quite relevant to perform thematic weddings. Moreover, there are different wedding styles, so to speak, at the discretion of the newlyweds. One such wedding decision is the style of the Great Gatsby, which is saturated with the luxury and bohemians of the 20th century. Undoubtedly, a wedding in this style will make a splash and will be remembered for a long time.
Luxurious Gatsby style implies detailing, which applies not only to the wedding decor but also to the guests' outfits. As a decoration, you need to use exclusively feathers, pearls, sparkles, sequins, and, of course, noble metals that complement the luxurious composition of the wedding. Also, these elements should be present in the outfits of the guests and, of course, of the bride and groom. Gatsby's style loves brightness, shock value, and extravagance.
4. Chocolate wedding
Everyone loves chocolate. And this is a good idea for a wedding, given that chocolate is a source of hormones of joy and energy and a proven remedy for depression. Of course, such a celebration is not for those who fanatically keep their weight trim. Because sweets will be everywhere, and no one can resist the temptation to feast on a piece of a chocolate bar or truffle in a golden wrapper. But in order for such a wedding not to look like a sale in a pastry shop, you should adhere to certain stylistic rules.
A bright and rich idea for this wedding is a real fountain of molten chocolate. As additional entertainment, you can offer guests a tasting of handmade chocolate, coffee, milk liqueurs, and praline.
Final Thoughts
In fact, there are plenty of wedding ideas, you should just choose the one that reflects your understanding of the perfect wedding best of all. Please note that you need to make a plan of what you are going to do at the ceremony and prepare for it in advance to give it the best shot. Thus, your guests will be pleasantly surprised, and the wedding will be remembered for a lifetime!
There are no comments. Be the first